You may have already seen the suitcase railway, my 2 part folding "N" Railway. That was OK but hasn't progressed as much. I mainly model in HO scale. So One Christmas, while on holidays in Brisbane, I decided to make a HO portable layout.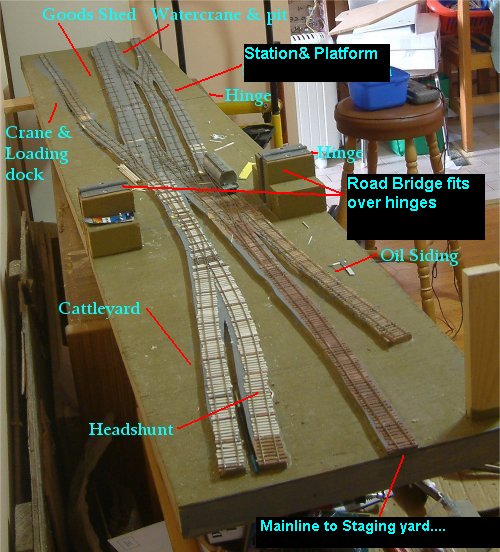 How to do it? Well first was to measure the back of the car ! It had to fit the boot or the rear seat. Then some more thought on the layout. Benig HO scale it was to be a shunting layout. I had thoughts of some layout like Twigg as inspiration. So a terminus. I had fun doodling plans until I got one I liked. But in the meantime I built the three modules, yes three. I did think of the original 2 part N gauge one and thought I could hinge another one to sit on top. That gave extra length without any joins. I know this fits in the car for it was brought back from Melbourne in the car exactly as It will travel - in the boot.

However this layout was to have one join, to a staging yard to be carried seperatly. It has not been planned or built - yet. A Turntable with three roads was thought of. Then perhaps a removeable storage cassette. Something to change trains. The turntable idea was good until you put the layout against a wall. A removable casstee, or a few wouls allow change, but still messy to turn the trains and not derail.

The Idea is a branchline terminus. A small one, but plenty to do. Based in Victoria but mayubee NSW ish as well. No prototype to get in the way. As well as the pass platform & station there would be an Oil siding ( off the paltform road), a livestock siding, a goods shed, a crane and aloading platform. Engine facilities will be a pit and a water crane. Trains will be very small.



Another purpose has been as a test bed for the railway. As it is upstairs I can wander to it and do some work rather than heading down to the main layout. And if I stuff something up - Easily corrected, lessons learnt. Alrrady I have experimented with sleeper gluing, sleeper colour, trackwork, baseboard and track profile.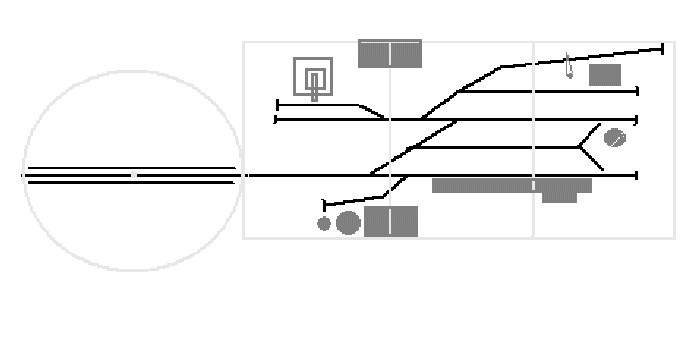 Track is hand laid code 80 rail on circuit board sleepers, space every so often. Balsa sleepers are use for cosmectic purposes. Points are also handbuilt on circuitboard. The effect is badly worn and weathered track with no uniform sleeper spacing.

DCC will be used on the railway. But being such a small Railway you could still use DC - and only have one engine on the layout, which would be the typical thing anyhow!

I am still debating the controls of the railway - that is points and signals. Do I make a them all electric, or manual?

The layout is three small baseboards, all hinged together. Basically they fold out as a "Z" with the top basboard on top. Not shown are the brackets to hold it in place.

The baseboards are very simple 1x2 pine in a rectangle with 3mm ply on the top. This is rather thin but the modules are small. And the roadbed is 10mm craftwood cut for roadbed in one peice for each module, which also acts ina frame/baseboard stiffener.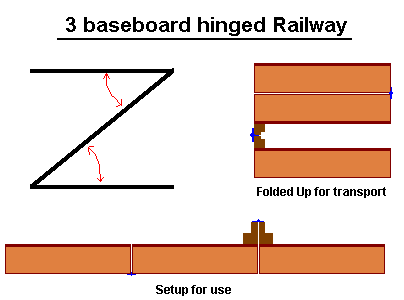 You can see the towers that hinge to sections together (as per the original N scale layout). This allows a bit of scenery to be permenant, I hope most will be. Scenically to hide the hinges, a Roadbridge will fit over them. One side will be a embankment, the other a combined embankment and part of the oil depot.

The backscenes will eventually play a part in displaying the model, and securing the railway for transport.